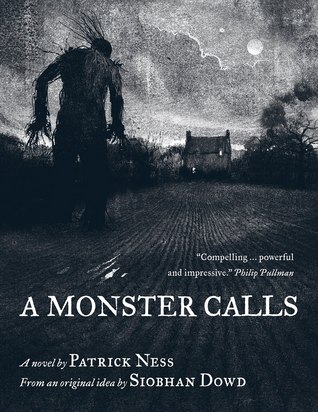 The lovely blog
No Money 4 Books
has started a weekly meme called Treat Yo Self Thursday where you can share a book that you have treated yourself to this week. This week I decided to treat myself to A Monster Calls by Patrick Ness.
Author: Patrick Ness
Publisher: Walker Books
Publications Date: 9/27/2011
Pages: 215
Series or Standalone: Standalone
Source: Bought from Second & Charles
Summary:
The monster showed up after midnight. As they do.

But it isn't the monster Conor's been expecting. He's been expecting the one from his nightmare, the one he's had nearly every night since his mother started her treatments, the one with the darkness and the wind and the screaming...

This monster is something different, though. Something ancient, something wild. And it wants the most dangerous thing of all from Conor.

It wants the truth.
Why I wanted this book: I have heard nothing but goods things about this book and this author. I cannot wait to dig right into this piece of art (it really is because the illustrations inside are breathtaking). I absolutely love anything that Tim Burton has done and this novel is very reminiscent of that type of story and artwork. I just love the black and white cover, the hand drawn look of the illustrations, the summary, and just everything about this book.
Let me know if you have read this book, want to read this book, and Fangirl over the imagery. But please no spoilers!