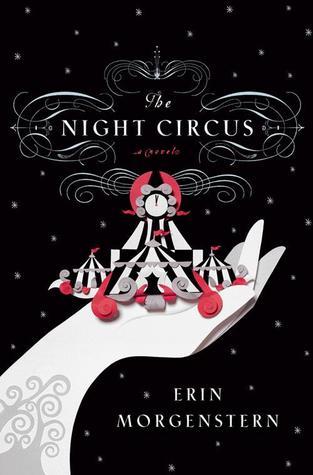 Author: Erin Morgenstern
Publisher: Doubleday
Publication Date: September 13, 2011
Genre: Adult fiction
Source: Bought off of Amazon
Pages: 387
Rating: 5 stars
Summary via Goodreads:
The circus arrives without warning. No announcements precede it. It is simply there, when yesterday it was not. Within the black-and-white striped canvas tents is an utterly unique experience full of breathtaking amazements. It is called Le Cirque des Rêves, and it is only open at night.

But behind the scenes, a fierce competition is underway: a duel between two young magicians, Celia and Marco, who have been trained since childhood expressly for this purpose by their mercurial instructors. Unbeknownst to them both, this is a game in which only one can be left standing. Despite the high stakes, Celia and Marco soon tumble headfirst into love, setting off a domino effect of dangerous consequences, and leaving the lives of everyone, from the performers to the patrons, hanging in the balance.
Brief Overview of Thoughts: One thing that drew me to this book was the fact that the author wrote the first draft during a thing called nano wrimo. This is a write-a-thon of sorts that challenges people to write a set amount of words in a weeks time. So that was really cool and for those that love to write keep at it! I can honestly say that this is one of the best books that I have ever read. It was one of those books that I knew going in would either be done well and would be an amazing read or would fall short. I recommend this book to anyone who does not mind a bit of a slow read, whimsy, magic, and a terrific love story.
What I did not Like:
Normally I read books that have a lot of action. Whether that is because there is a mystery and the plot is beginning to unfold or whether the action is just people beating each other up. It did take me a minute to really get into this book because the pace is quite slow as there is a lot of back story, however this is necessary to set up the romance between the main characters as well as explain the origins of the Night Circus. But if there could have been some sort of epic action scene (or maybe even some dragons thrown in there) I would not complain.
What I did Like:
The characters. This is one of the few books that I have read that there is not a single character with whom I have a problem, however small that problem might be. I can honestly say that each character was well-written and I loved how all of their stories were intertwined. No character was just thrown in there for fluff or to be a filler of sorts. They were all just so magical and had wonderful personalities that really came through in the writing style. You could tell when a character was speaking because there was a slight shift in the writing style and speech patterns, which is something that I just adore in books.

The writing. Just like the Night Circus entranced and enthralled the visitors as they watched the marvels unfold the writing kept you entertained and interested. Even during the slower parts there was something about the writing style that kept you turning the pages to find out what was coming next. I have never read writing that influenced me quite like Erin Morgenstern's did and I am not sure that it is something that many writers can do.

The changing perspectives. This is an aspect that can go horribly wrong if it is not done correctly. However, I feel that for this story there would have been no other right way to do it. Having the story go in a chronological order would have taken some of the magic and suspense away and the story just would not have felt the same. This also helped with some of the slower back story sections because it was broken up into manageable pieces which helped the reader from feeling like they were reading a hundred pages of nothingness.

The love story. This is definitely an adult love story and not in a raunchy romance novel way but in a very believable and slow kind of way. Celia and Marco did not even know that they were competitors for a very long time and even after Marco found out he waited many years before he revealed himself to Celia. However, they both found themselves creating tents at the Night Circus that would please the other person and would build and feed off of each other. Much like those in a good relationship will do things to please the other person and will bring out the best in each other. The thing that I liked the most was that the relationship was a slow burn type of thing and there was no instalove. It really did seem like a true relationship, minus the whole magical powers thing.

The ending. Everything was cleared up and explained and for the most part it was a happy ending.
Overall I was pleasantly surprised by this debut novel and I look forward to reading more from her. I even went so far as to look up which books were similar to this one on Goodreads.