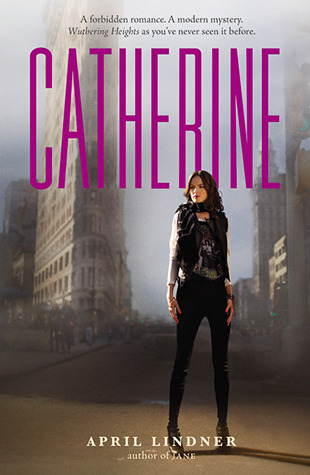 Author: April Linder
Publication Date: January 2, 2013
Publisher: Poppy
Series or Standalone: Standalone
Source: Courtesy of Goodreads First Reads
Pages: 320
Rating: 5 stars
Summery Via Goodreads:
A forbidden romance. A modern mystery. Wuthering Heights as you've never seen it before.

Catherine is tired of struggling musicians befriending her just so they can get a gig at her Dad's famous Manhattan club, The Underground. Then she meets mysterious Hence, an unbelievably passionate and talented musician on the brink of success. As their relationship grows, both are swept away in a fiery romance. But when their love is tested by a cruel whim of fate, will pride keep them apart?

Chelsea has always believed that her mom died of a sudden illness, until she finds a letter her dad has kept from her for years—a letter from her mom, Catherine, who didn't die: She disappeared. Driven by unanswered questions, Chelsea sets out to look for her—starting with the return address on the letter: The Underground.

Told in two voices, twenty years apart, Catherine interweaves a timeless forbidden romance with a compelling modern mystery.
My Review: I am a huge fan of retellings and granted that my usual taste is fairy tale retellings. However, I just loved this book and I am now in the mood to read Wuthering Heights by Emily Bronte and I also need to check out Jane which is a retelling of Jane Eyre by Charlotte Bronte.
When a story is told from two different perspectives it is going to go one of two ways. The story will be either be enhanced from these differing points of view or the story will be hindered because the viewpoints just don't make any sense. In this case the different viewpoints were necessary to make this story really stand out. The first viewpoint that we see is from Chelsea who up until the point where she finds a letter from her mom, whom she believes to be dead, that her dad has hidden from her leads a very ordinary life. The finding of this letter sparks in here a desire to track down her mother who has been missing for fourteen years. She is thrown into a mystery that is bigger than she ever could have imagined. Throughout this story you see the main character grow as a person and this is slightly a coming of age story. Through learning about her mother she also learns a little bit about herself and her dad. Chelsea was very relatable as a character and I liked her spunk and go-getter attitude. She wanted to learn more about her mother and never gave up on her search for the truth.
The next viewpoint that we get is Catherine, the mother who has been missing for all these years, and her voice is from herself twenty years prior. She is responsible for giving the backstory on her forbidden romance with Hence who is an aspiring musician who shows up on the doorstep of the club her father runs. Through her we learn about her relationship with Hence, a little bit more about her family, and the heartbreak of a first-love. You also feel for Chelsea's dad who love Catherine but was never truly loved back by her.
I liked Catherine and even though in the beginning you just can't believe that she would walk out like that towards the end you are rooting for her and a happy ending. She was not as relatable as Chelsea was but then I have never been head over heels in love so that could be part of the problem. I did love her collection of books that lined the walls of her room. I just love characters in books that love to read and collect books. It just makes my heart smile. :)
The book definitely kept me on my feet and it did have some feels. There were a few points in the book that I teared up just a little and really felt for Catherine as she dealt with some very emotional ups and down as well as Chelsea who is dealing with her issues with her dad, trying to find out about her mom, and coming to terms with the fact that her mom walked out. The mystery part of the story was good, a little bit predictable, but it did keep you hoping you were wrong until the very end.
I thought all of the characters in general were well developed and had a lot of depth to them. That is something that I have a pet peeve with in books so to read a novel where I could relate to all of the characters in some way was a refreshing change. I have to admit that I did not like the dad in the beginning but in the end you end up just feeling so sorry for him and can understand why he did the things that he did. The plot never really dragged but there was not a whole lot of action however the pages just kept on turning as I waited with bated breath to find out what happened next!
So, that is it! This book is so cute and I recommend it to anyone who just wants a good love story and mystery. Five stars and you guys should definitely check this one out. Let me know in the comments if you have read this book and what you think. :)