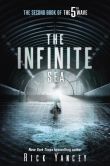 The lovely blog

Breaking the Spine

hosts a weekly meme called Waiting on Wednesday which allows us to showcase a book that we can not wait to be released.
Author: Rick Yancey
Publisher: Penguin Young Readers Group
Publication Date: September 16, 2014
Summary via Barnes and Noble:
The riveting follow-up to the New York Times bestselling The 5th Wave, hailed by Justin Cronin as "wildly entertaining."

How do you rid the Earth of seven billion humans? Rid the humans of their humanity.
Surviving the first four waves was nearly impossible. Now Cassie Sullivan finds herself in a new world, a world in which the fundamental trust that binds us together is gone. As the 5th Wave rolls across the landscape, Cassie, Ben, and Ringer are forced to confront the Others' ultimate goal: the extermination of the human race.
Cassie and her friends haven't seen the depths to which the Others will sink, nor have the Others seen the heights to which humanity will rise, in the ultimate battle between life and death, hope and despair, love and hate.
Why I want it: I have not yet read the 5th Wave but I really really want to! It just sounds so interesting and suspenseful. Maybe I will wait until this book comes out and then I will just marathon the series. Hopefully both books will live up to the praise that they are getting and will be a winning dystopian series and earn a place of honor on my bookshelf.