The lovely blog
No Money 4 Books
has started a weekly meme called Treat Yo Self Thursday where you can share a book that you have treated yourself to this week.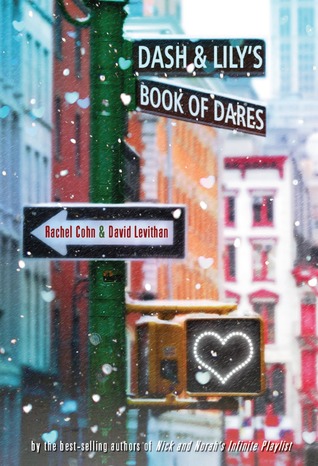 Title: Dash and Lily's Book of Dares
Author: Rachel Cohn and David Leviathan
Publisher: Knopf books for young readers
Publication Date: 10/26/10
Source: Bought from Second & Charles
Price: $6
Summary via Goodreads:
"I've left some clues for you.
If you want them, turn the page.
If you don't, put the book back on the shelf, please."

So begins the latest whirlwind romance from the bestselling authors of Nick & Norah's Infinite Playlist. Lily has left a red notebook full of challenges on a favorite bookstore shelf, waiting for just the right guy to come along and accept its dares. But is Dash that right guy? Or are Dash and Lily only destined to trade dares, dreams, and desires in the notebook they pass back and forth at locations across New York? Could their in-person selves possibly connect as well as their notebook versions? Or will they be a comic mismatch of disastrous proportions?

Rachel Cohn and David Levithan have written a love story that will have readers perusing bookstore shelves, looking and longing for a love (and a red notebook) of their own.
Why I wanted this book: I have seen booktubers raving about this book for a few months now. So you can bet your bottom that when I discovered it on a rack at Second & Charles that I was ecstatic and grabbed it up. I was so happy to find this book! I have not seen it at any of the other bookstores in my area and thought that I was destined to have to search the depths of Amazon for this book. I might wait until closer to the holidays to read it since technically it is a holiday book. Or I might be able to restreain myself and I will need to read this book ASAP!
Let me know in the coments if you have read this book! Did you like it? Was it as cute and awesome as I think that it is going to be?