Disclaimer: This book does deal with some adult topics such as depression, mental illness, and self harm. In my video talk and written review I do touch on these topics. Please be aware of this before you watch the video, read the review, or read the book.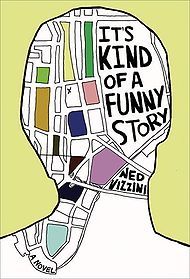 Author: Ned Vizzini
Pages:
Publisher:
Publication Date:
Series or Standalone: Standalone
Source: Bought
Rating: 5 stars
Summary via Goodreads:
Ambitious New York City teenager Craig Gilner is determined to succeed at life - which means getting into the right high school to get into the right job. But once Craig aces his way into Manhattan's Executive Pre-Professional High School, the pressure becomes unbearable. He stops eating and sleeping until, one night, he nearly kills himself.

Craig's suicidal episode gets him checked into a mental hospital, where his new neighbors include a transsexual sex addict, a girl who has scarred her own face with scissors, and the self-elected President Armelio. There, Craig is finally able to confront the sources of his anxiety.

Ned Vizzini, who himself spent time in a psychiatric hospital, has created a remarkably moving tale about the sometimes unexpected road to happiness.
Here is my video talk of the book:
Here is my written review of the book:
What I liked-
The plot was intriguing and well-developed. There were some slow parts and this book was not a fast paced action thriller type of book. The slower parts are used to help you to understand how Craig came to be depressed and how this depression affects his way of thinking, the relationships that he forms, his family, and his friends.

The writing was amazing. This book had me gripped and intrigued in the first few pages and held me spellbound until the very end.

The characters were all well-developed and our main character Craig definitely had a lot of growth throughout this novel. When he went into the psychiatric care unit he was just a teenage boy who did not know how to deal with his issues or how to relate to people or the world. While in the care of the psych ward he learned a lot about himself and about others. He found that he really did care about these people and that he already had the keys to success he just did not know how to use them properly.

The focus on family was a nice change from the dystopian post-apocalyptic worlds that have been dominating my bookshelf lately. In those books the family unit is broken up but in this book family is the main focus. Craig realizes that his family is very important to his success and that with their help he can overcome this depression that has consumed his life.

The whole book felt very authentic to me and that is something that I loved. The plot line was relatable, the characters were relatable, and the book dealt with some darker issues that people really do struggle with. Unfortunately the age at which these issues comes up seems to dip lower and lower and the years go on. Mental illness and drug abuse is a real thing and I wish that more books would deal with these tougher topics.
What I did not like-
I had to dig deep and what I didn't like is just little trivial stuff.
I thought that the relationship between Craig and Noel was a bit weird. But, they are about fifteen or so years old so I guess I was not a smooth talking awesome at romance type of person then (or now for that matter).

Sometimes it seemed like Ned Vizzini tried just a bit too hard to make his characters seem funny. At times it was slightly over the top but nothing to really distract you from the book or the message that you receive from it.
This book is at the top of my recommendations list and is just so beautiful and powerful. Please read this book! I cannot say enough wonderful things about it, just read it and you will never view the world the same way again. Absolute perfection.