The lovely blog
Breaking the Spine
hosts a weekly meme called Waiting on Wednesday which allows us to showcase a book that we can not wait to be released.
The book that I have chosen for this week is: The Revenge of Seven by Pittacus Lore (Book 5 of the I Am Number Four series) Release Date: August 26, 2014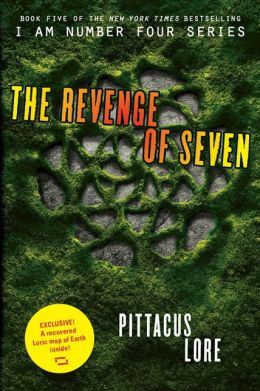 Summary:
This exclusive edition contains a two-color, double-sided poster created by Pittacus Lore as a guide to Earth. Throughout the series, you've learned about many Loric sites, but now you'll discover the true story behind them. And the most important location of all—the place the Elders always intended the Garde to discover—might just help them end the war.
In this fifth book in the New York Times bestselling I Am Number Four series, the Garde are reeling from unbearable losses. Five has betrayed them. Eight is gone forever. Ella has been kidnapped. The others are scattered.
In Chicago, John makes the unlikeliest of allies: Adam, a Mogadorian who turned on his people. And he knows exactly where to hit them: their command base near Washington, D.C. During the assault, however, John and Adam learn it's too late. The Mogadorians have commenced with their ultimate invasion plans.
With a front-row seat to the impending invasion, Ella finds herself in the hands of the enemy. For some reason she's more valuable to them alive, and they'll stop at nothing to turn her.
Meanwhile, Six, Nine, and Marina make their way through the Florida Everglades, hot on the trail of the traitorous Five. With the development of a new Legacy, Marina finally has the power to fight back—if her thirst for revenge doesn't consume her first.
The Garde are broken and divided once again, but as long as one still stands, the battle for Earth's survival is not lost.
Why I am eagerly awaiting this book:
I have read the first 4 books in this series and I am in love! I am so freaking excited to read the 5th book in a series that I just cannot get enough of. I know that the series has gotten some mixed reviews on Goodreads but I love the series so that is all that matters. You should all definitely give it a try.