The lovely blog
No Money 4 Books
has started a weekly meme called Treat Yo Self Thursday where you can share a book that you have treated yourself to this week. This week I decided to treat myself to Fangirl which I then promptly devoured and now all I want to do is read Rainbow Rowell. Perhaps I will have to binge on her books in the near future.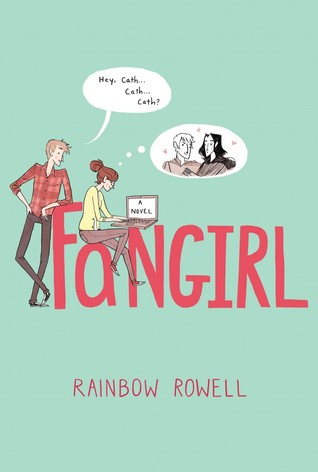 Author: Rainbow Rowell
Pages: 445
Publisher: St. Martin's Press
Publication Date: 9/10/2013
Standalone or Series: Standalone (However, if Rainbow ever wants to make this

thing a series I am down for dat business)
Source: Barnes and Noble
Price: $19 but I had a 20% off coupon
Brief Synopsis Via Goodreads:
A coming-of-age tale of fan fiction, family and first love.

Cath is a Simon Snow fan.

Okay, the whole world is a Simon Snow fan...

But for Cath, being a fan is her life—and she's really good at it. She and her twin sister, Wren, ensconced themselves in the Simon Snow series when they were just kids; it's what got them through their mother leaving.

Reading. Rereading. Hanging out in Simon Snow forums, writing Simon Snow fan fiction, dressing up like the characters for every movie premiere.

Cath's sister has mostly grown away from fandom, but Cath can't let go. She doesn't want to.

Now that they're going to college, Wren has told Cath she doesn't want to be roommates. Cath is on her own, completely outside of her comfort zone. She's got a surly roommate with a charming, always-around boyfriend, a fiction-writing professor who thinks fan fiction is the end of the civilized world, a handsome classmate who only wants to talk about words... And she can't stop worrying about her dad, who's loving and fragile and has never really been alone.

For Cath, the question is: Can she do this?

Can she make it without Wren holding her hand? Is she ready to start living her own life? Writing her own stories?

And does she even want to move on if it means leaving Simon Snow behind?
Why I Bought the Book: This book has been all over the blogging community and I have been wanting to try some of Rainbow Rowell's work for a while. I am so freaking glad that I got this book and I have linked the review to this post. Oh my goodness! It totally lives up to the hype that it is getting from the blogging community.
Stop whatever you are doing and go out and get this book if you have not already read it!!!! I highly recommend this book to anybody. You should all read it and then you should comment and we can talk about the feels that this book gives. It is awesome and eeeeeek! So good, so true, so relatable, so freaking fantastic. Best money ever spent ever! I will be reading more from her and she is perhaps my new favorite author... next to J.K. Rowling of course. She is still the queen.
You can see my review of it here! Fangirl with me over Fangirl people!!!!!!