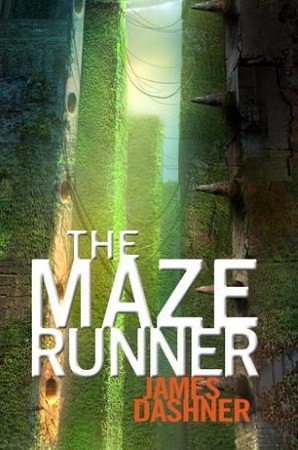 Author: James Dashner
Pages: 374
Publisher: Delacorte Press
Publication Date: 10/6/2009
Standalone or Series: The Maze Runner #1
Source: Bought
Rating: 5 stars
Summary taken from Goodreads:
"If you ain't scared, you ain't human."

When Thomas wakes up in the lift, the only thing he can remember is his name. He's surrounded by strangers--boys whose memories are also gone.

Outside the towering stone walls that surround the Glade is a limitless, ever-changing maze. It's the only way out--and no one's ever made it through alive.
Then a girl arrives. The first girl ever. And the message she delivers is terrifying.
Review:
I loved this book! How in the world did I miss the fact that this series even existed? I blame the vortex that was college and the fact that all I read for 4 years were anatomy and physiology textbooks. It is safe to say that this book was infinitely better than any of those textbooks.
I thought the characters were very well done and completely believable. They were kids who were thrown into this area which they called the Glade and forced to try and figure out what
was going on and how to get themselves out of this situation. They were all forced to work together and figure out who the leaders were and where everyone fit into the system to make it all work. Some were stronger than others, which is to be expected. I especially like Thomas, the main character, and thought that his propensity to ask questions and get the job done really made him likeable. He never just sat back and succumbed to the fact that he would just probably never know what was really going on but instead took the reigns and got some stuff done. The secondary characters were also quite strong as well, some you liked and some you hated. I think that is a good mix you always want someone to root for and against.
The language in the beginning was hard to get through because the Gladers (as they called themselves) had their own words for things.

Once you figured out what in the heck they were talking about the novel seemed to just fly by.
Plenty of action, mystery, and suspense. The book keeps you guessing and will keep you on the seat of your pants. I didn't want this first book to end and now I don't want the series to end. Can Dashner just keep writing about Thomas and the other gladers please? I could totally do some spinoff series from these books.
Overall it was freaking fantastic and I have already read the second book in the series The Scorch Trials and that is also a freaking fantastic book! I highly recommend this series to anyone who like dystopian and post-apocalyptic type books!