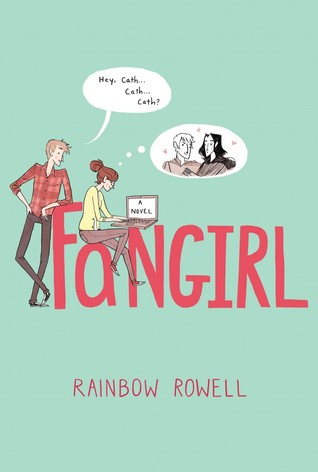 Author: Rainbow Rowell
Pages: 445
Publisher: St. Martin's Press
Publication Date: 9/10/2013
Standalone or series: Standalone but I would totally be ok if this became a series
Source: Bought
Rating: 5+
Brief Synopsis Via Goodreads:
From the author of the New York Times bestseller Eleanor & Park.

A coming-of-age tale of fan fiction, family and first love.

Cath is a Simon Snow fan.

Okay, the whole world is a Simon Snow fan...

But for Cath, being a fan is her life—and she's really good at it. She and her twin sister, Wren, ensconced themselves in the Simon Snow series when they were just kids; it's what got them through their mother leaving.

Reading. Rereading. Hanging out in Simon Snow forums, writing Simon Snow fan fiction, dressing up like the characters for every movie premiere.

Cath's sister has mostly grown away from fandom, but Cath can't let go. She doesn't want to.

Now that they're going to college, Wren has told Cath she doesn't want to be roommates. Cath is on her own, completely outside of her comfort zone. She's got a surly roommate with a charming, always-around boyfriend, a fiction-writing professor who thinks fan fiction is the end of the civilized world, a handsome classmate who only wants to talk about words... And she can't stop worrying about her dad, who's loving and fragile and has never really been alone.

For Cath, the question is: Can she do this?

Can she make it without Wren holding her hand? Is she ready to start living her own life? Writing her own stories?

And does she even want to move on if it means leaving Simon Snow behind?
My Review: I am going to attempt to review this book without turning into a screaming fan girl myself. I make no promises people.
First let me start with why I love this book... it is my life! I was completely obsessed with Harry Potter and still am. I was at every midnight book release and movie premiere dressed up in character of course. In fact later on this month I am going to a Harry Potter Birthday Party event at a local bookstore and I am dressing up as Bellatrix Lestrange. So yeah, still a huge fan yo! I am also an introvert and making friends, being in new places, and change in general just makes me uncomfortable. I can remember feeling like Cath my first few days in college where I knew nobody. I mean that I want to college out of state and knew no one going into my first day. It was scary, I didn't know how college worked, where was the cafeteria, who would I sit with, etc. It really did take a while to get the logistics worked out and then finally the friends began to come. It was hard that first year and there were times that I felt like quitting but I am so glad that I stuck it out! I also read and do write some Harry Potter fan fiction so yeah this story was basically my life. So relatable and just ah! I couldn't get enough.
What I didn't like:
This is hard I am truly having a hard time coming up with anything that I don't like. This is almost unheard of for me because usually there is at least something that bugged me, but alas I can think of nothing. Don't know if that is good or bad.

The end like the fact that it ended. Please be a series or write a sequel or a prequel. Anything. Please?
What I did like:
oh where to begin!
The feels. This book will at times wrench your heart out of your chest, then will make you laugh out loud, you will feel for the characters as they figure out who they are. I just went through an emotional roller coaster of feels and came out a different person. I just need more... more feels!!!!!!!!!!!!!!!!!!!!!
Character growth. I love characters that grow as the story progresses. They make mistakes, they feel hurt and betrayed, they are not perfect, they become stronger as a result of the above things. I like it, I like it a lot. And this is not just the main character but many of the supporting characters as well, I just... I can't. I need more like right now. Where is the freaking sequel? It seemed as if each character that was a major part of the story had their own demons to work through and not every character got the redemption that they needed or even wanted. So, real life people!
The characters themselves. All of them, I could not get enough. They were well written, had a lot of depth to them, and genuinely seemed to be relatable and reminded me of real people from my life.

I could relate to Wren and Cath's relationship because I have sisters as well and they are twins. Boom! My sisters are so different, one is more like Wren and the other is like Cath. I also relate more with Cath because I despise parties and drunk people and I had friends in college who were the Wrens. Social butterflies, drinking, partying, wanting to live fast and wild. So this book resonated with me because it made me think of people that I actually know and that is how you know the book is good. When you think about it constantly, well I might have a problem and I am totally ok with this.

The relationships. There was no instalove. Ahhhhhhhh! All of the relationships formed over time and the main one between Cath and Levi started out as friends and then from there it was a slow burn and both parties were not completely on board, there was drama, there were mistakes, there was actual talking. It is a real relationship. People screw up, people hurt the ones they care about, there is forgiveness and second chances. Most of the time when you like someone it is not an easy oh I like you, you like me hey let's get married. It takes time, effort, and commitment to get there. So yeah, great job Rainbow you rock! I love that Cath and Wren went through a period where they were not close. It happens, sisters fight, they get mad sometimes for a long time, and then they just sort of get over it. There doesn't have to be a big scene or even a heartfelt apology. They are just there when you need them the most. I also like how the relationship with the mother is played out... I promise no spoilers. It felt real and I like how they reacted differently to the same stimuli. Cause that is what happens different people different reactions. Again I need more.
The fact that you actually get glimpses of the Simon books and of Cath's fan-fiction. I am a huge fan of the Harry Potter slash. Never write it but I love to read it. Guilty pleasure what can I say? It really helped to make the story extra special. However, it never felt choppy or like it just didn't belong it just sort of seamlessly tied into the storyline. I love! I can't help it fan girl with me peeps!!!!!!!!!!!!!!
The book dealt with mental illness. Not a lot of books deal with this issue and while it was not the focus of the book it helped to give the characters some depth. I liked it, well done, not over the top, just the right amount of drama. I hope that some of her other books deal with similar topics and are just as entertaining.
What am I to do? I have major book hangover, and I am pretty sure that I will never love another book again as long as I live. I also said this when the 7th Harry Potter book came out and I did love again, it just took a while. For those of you who have read this book how did you move on? Have you moved on? Is there any hope for return? Also are Rainbow Rowell's other books just as good? Because I might just have a new favorite author.
Now please excuse me, I have a lot of books to go and buy and then binge read! Let me know if you enjoyed and love this book as much as I do in the comments!!!!!
Read this book like right now. Drop what you are doing and go buy it, borrow it, but most importantly go and read it. You will not be disappointed.
Also I need to now go and buy the rest of her books. Dang it! So much for not buying any more books until pay day.