This is a weekly meme that is hosted by Rebecca over at
Bookshelf Fantasies
as a way to recap books that are older (been published for at least five years) but still have a special place in our hearts.
Author: Katherine Paterson
Publication Date: 1/1/1996
Summary:
Jess Aarons' greatest ambition is to be the fastest runner in his grade. He's been practicing all summer and can't wait to see his classmates' faces when he beats them all. But on the first day of school, a new girl boldly crosses over to the boys' side and outruns everyone.
That's not a very promising beginning for a friendship, but Jess and Leslie Burke become inseparable. Together they create Terabithia, a magical kingdom in the woods where the two of them reign as king and queen, and their imaginations set the only limits.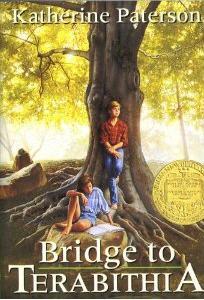 Why I love this book: OH my goodness the feels that this book made me have is ridiculous. I mean you talk about a book that will rip your heart out and stomp all over it. I just simply adore everything about this book and is one of the few book to movie adaptations that was done well. I mean flawless. It was a perfect representation of such a magical and wonderful book. I highly recommend this book to everyone! You will continue to re-read it and will hold a place of honor on your bookshelf. I will never get rid of this book and so it shall sit forever!