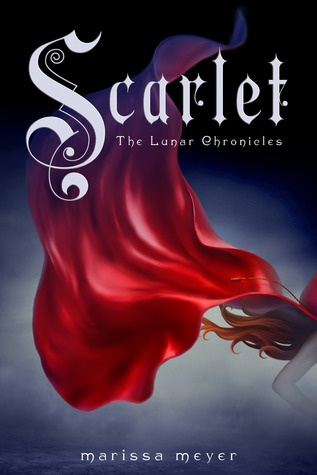 Author: Marissa Meyer
Pages: 452
Publisher: Fiewel and Friends
Publication Date: 2/5/2013
Standalone or Series: 2nd in the Lunar Chronicles
Source: Checked out from the library
Rating: 5 stars
Summary taken from Goodreads:
Cinder, the cyborg mechanic, returns in the second thrilling installment of the bestselling Lunar Chronicles. She's trying to break out of prison--even though if she succeeds, she'll be the Commonwealth's most wanted fugitive. Halfway around the world, Scarlet Benoit's grandmother is missing. It turns out there are many things Scarlet doesn't know about her grandmother or the grave danger she has lived in her whole life. When Scarlet encounters Wolf, a street fighter who may have information as to her grandmother's whereabouts, she is loath to trust this stranger, but is inexplicably drawn to him, and he to her. As Scarlet and Wolf unravel one mystery, they encounter another when they meet Cinder. Now, all of them must stay one step ahead of the vicious Lunar Queen Levana, who will do anything for the handsome Prince Kai to become her husband, her king, her prisoner.
Review: Ummm... wow! Marissa Meyer does it again people! I could not put this book down. I mean we are talking took me all of 3 hours to read this book and I am pretty sure that I stopped breathing a few times. I have to admit when I found out that the book would be alternating between the continuing story of Cinder the wanted fugitive and Scarlet who is just trying to locate her grandmother I was just a bit worried. However, the transition between the two stories was very smooth and in the end they seamlessly tied into each other

and no loose ends were left to unravel. Again the book ends on a cliffhanger and I went to the library this afternoon but Cress was not in stock so now I have to wait! The injustice of it all.
I really liked that Cinder got to continue on with her story with the introduction of a new character who just about knocked my socks off with his wit and humor. Oh my goodness I laughed out loud at some of the stuff he said and did. I really look forward to watching her continue to grow and to except her new found role as the story continues in Cress.
Scarlet was yet another strong female character who loves her grandmother so much that she was willing to risk her own life to save her! Plus she is not afraid to use a gun, so I like her already! The only problem that I had with this book is the romance between Scarlet and Wolf it just felt kind of forced, not enough to detract from the awesomeness that was this book but enough to leave me feeling somewhat lacking. I just felt like Scarlet was naïve and sort of rushed into something with Wolf. Now granted there might have been a reason why Scarlet felt some of the things she did for Wolf, which is explained in the book but I will not give any spoilers. So, that could account for some of the sheer awkwardness, hopefully it will get less meh in the next book.
Overall brilliant read and a fantastic story! Also, could we all please just stop and take a moment to marvel at the cover art that is on these novels I mean really. They are eye-catching, artistic, and really convey what the book is about. Also I like that the color red was used to tie the books together to create a series that is unique but also flows really well. So, props to whoever designed them because you are my hero.